Music On the Erie Concert Series
Brought to you by:
This event is funded in part through the generous support of the NYS Canal Corporation and the Erie Canalway National Heritage Corridor, the Greater Newark Chamber of Commerce and Spinco Metal Products.
These events will not be cancelled!
They will be moved if there is a concern with the weather and decision will be made by 3 pm.
All weather relocations will be held at the First Glass Wine Bar located at Doug Kent's Rose Bowl Lanes (725 W. Miller St)
June 24th
2022
Swagger
Sponsored by Mark Santelli/Bright Futures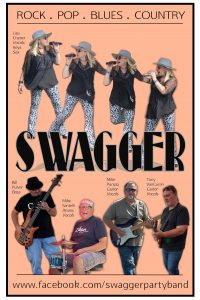 Swagger is a 5-piece party band serving the Finger Lakes and beyond. No strangers to the local music scene, Swagger is a collaboration of seasoned band veterans Lisa Cramer on vocals, keyboard and saxophone; Tony VanCuren on guitar and vocals; Bill Pulver on bass; Mike Santelli on drums and vocals; and Mike Pursati on guitar and vocals. Based out of Wayne County, Swagger offers a variety of musical genres encompassing rock, pop, blues and modern country. Their music is recognizable, danceable, and covers many hits from the 70's to today. Appealing to all age groups, Swagger strives to get their audience on the dance floor while providing musical entertainment that is fun and energetic yet professional. Come get your Swagger on…you won't be disappointed!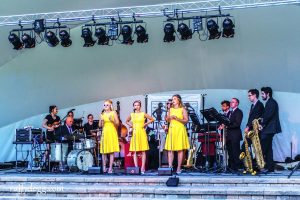 2022
It's My Party
Sponsored by Canal View Family Restaurant
IT'S MY PARTY! is a 1960s vintage experience, complete with a 14-piece orchestra and original songs written especially for us! Our tight harmonies, vintage costumes, and retro choreography are all set to the highest standards of the 1960s girl groups..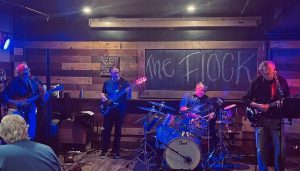 July 8th and August 19th
2022
The Flock
Food Provided by The Little Red Wagon 7/8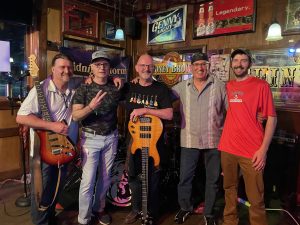 July 15th
Midnight Storm
Sponsored by: Reliant Community Credit Union
Midnight Storm plays a wide variety of Classic Rock, Blues Rock, and Southern Rock at many town events, festivals, and establishments in the Finger Lakes region.
We love to play high energy music and have fun!! Join us to hear covers by artists such as Allman Bros, Skynyrd, Marshall Tucker, Santana, Buddy Guy, Joe Cocker, SRV, KWS, Dilbert McClint, Tom Petty, Stones, and much more.
Come on down to dance and rock the night away with us. We are looking forward to seeing everyone again this year!!
July 22nd
2022
Johnny Bauer
Sponsored by Doug Kent's Rose Bowl Lanes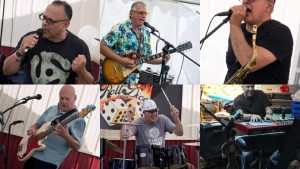 July 29th
2022
Roll The Dice
Sponsored by:
Upstate Fiber Networks
Roll The Dice band is a classic rock blues rock band we've been established banned for over 11 years we've entertained many great audiences from the Grapefest all the way to the smallest venue we have music for generations and we are fun to rock with.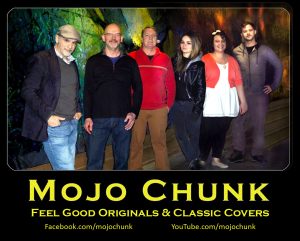 August 5th
2022
Mojo Junk
Sponsored by: Revive Salon and Spa
"Mojo Chunk plays an exciting, eclectic blend of classic rock and soulful originals and has been performing in the Rochester area for 15 years. Always fun and never too loud for the crowd."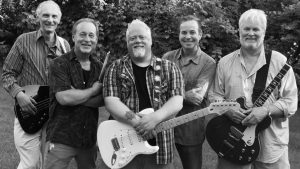 August 12th
2022
Johnny B. and the MVP's
Sponsored by: Ameriprise Financial and Lagana's
John B & the MVPs have been working in the Rochester and Wayne County music scenes for more than a dozen years. During that time, they have been gaining momentum with a carefully-selected song list, leaning heavily on Tom Petty's music as well as other great classic rock and Americana. You won't want to miss this band!
Sponsored by:
Market Alternatives on August 26th
Food Provided by Little Red Wagon
www.marbletonesmusic.webs.com
The Marbletones call themselves a Classic Rock band, but that doesn't tell the whole story. Right next to Tom Petty, you might find Elvis Costello. The Talking Heads, John Hiatt and the Jayhawks are mixed in with the Beatles and the Stones. Other artists covered are Van Morrison, the Kinks, the Stray Cats, and Weezer. You might hear Lynyrd Skynyard after Lou Reed, or David Bowie after Stevie Ray Vaughan. What you can be sure of is great songs done well. Each performance is a little different from the last, and the mix is always fun to listen (and sometimes dance) to.